Competencies
Our software and Cloud experts have many years of  experience in know-how from Cloud projects in a wide range of industries.
In order to be able to implement your individual Cloud projects in the best possible way and to be able to optimally support you in the areas of consulting, conception, implementation, operation and coaching, we focus on the Cloud areas of Application Development, Cloud Infrastructure, DevOps, and IoT.

Application Development
Conception and development of a modern and individual cloud software
Application Development
cloud-native Applications​
App Modernization​
Serverless Architektur​
Containerization

Cloud Infrastructure
Fast, scalable, and secure infrastructure deployment for cloud solutions
Cloud Infrastructure
Automation​
Orchestration​
Security​
Monitoring

DevOps
Deliver software and cloud solutions faster with modern DevOps processes and methods
DevOps
Governance​
Project Management​
Pipelining​
Test Management​

IoT
Get more out of devices, machines, and buildings with IoT
IoT
Device Design & Programming​
Device Management​
IoT Cloud Backend​
Data Analytics​

Application Development
Scalable Cloud applications
We develop modern, secure and scalable Cloud applications that are adapted to your professional requirements and to your industry. Depending on your requirements, we support you with the concept, the architecture design, the implementation, the software testing, the operational preparation, as well as the operation.
State-of-the-art technologies
In order to be able to design and develop the optimal Cloud solution for your application, we use only the most modern and proven technologies and methods available on the market. No matter whether it is a case of modernizing an existing software solution or developing a cloud native application, we are here to offer you an update in every area.
Optimal architecture
Depending on the requirements profile and application scenario, we design microservices, monoliths or serverless architectures, containerize your services and applications, or implement lift & shift scenarios for your first step into the Cloud. To do this, we leverage the services of the Microsoft Azure Cloud, as well as modern programming languages, frameworks, and tools such as .NET Core, Angular/TypeScript, Docker, and Azure DevOps.
Agile project management
In order to enable the smoothest possible development process, we set up your project together with you as a product owner using the agile project management procedures SCRUM or KANBAN. In this way, we form the entire project with a maximum transparency and agility in a collaboration based on the Cloud-based Azure DevOps platform.
Specialist team
Our highly specialized team of Cloud Solution Architects, Software Architects, Software Engineers, DevOps Engineers, Scrum Masters and Software Testers will support you from the design to the operation of your solution throughout the development process.

Cloud Infrastructure
Base for Cloud applications
The right selection, configuration and monitoring of the Cloud infrastructure has a central role in provisioning modern, secure and scalable Cloud applications.
Cloud Architecture and Orchestration
For your Cloud project, we make the optimal selection of Cloud services based on the defined Cloud architecture and configure the entire Cloud environment for you. We do this on the basis of the Azure Cloud Platform, which offers a very wide range of services for orchestrating your Cloud solution with its Infrastructure as a Service (IaaS) and Platform as a Service (PaaS) offering.
Automated deployment
When deploying Cloud infrastructure, we follow now common paradigm of Infrastructure as Code (IaS), where the entire deployment and configuration is fully and reproducibly automated. The automation is done using Azure Resource Manager (ARM) scripts or Terraform in combination with Azure DevOps pipelines, which can deploy the Cloud environments at the touch of a button in various stages such as DEV, TEST, PROD or even Azure regions.
Security, Governance and Monitoring
In addition to automating the infrastructure, we also configure it according to Microsoft Azure's standard security requirements, define governance policies for the Cloud environment, and configure monitoring for infrastructure services, applications and costs to create transparency and establish continuous optimization processes.
Operation and support
By optimally configuring and automating your Cloud infrastructure and the solution based on it, we can assist you in the best possible way by supporting and operating the Cloud solution or handing it over to your own operations team.

DevOps
People, processes, products
DevOps is a methodology that provides harmony between people, processes and products in such a way that a permanent provision of new functionalities for the end user is made possible. This is a big advantage, especially in the production of Cloud applications, because you have not only the development in hand, but also operations and the DevOps methodology can increase the added value.
Procedures
We support you in implementing your projects according to DevOps and establishing DevOps methods in your teams. We manage this by using Governance Templates, Conventions, Guidelines and a lot of project experience.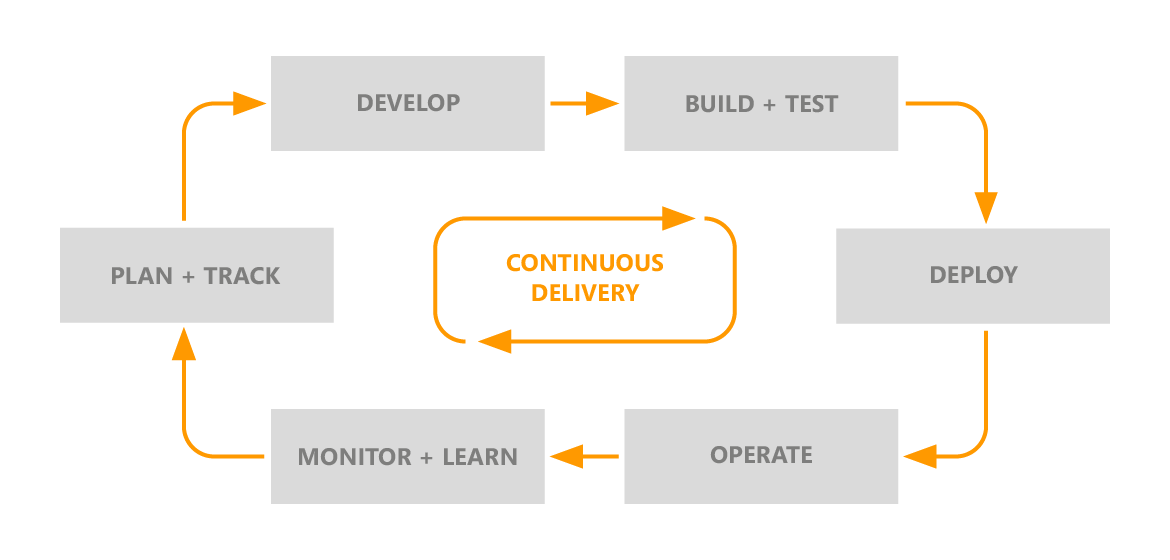 Value
DevOps increases the transparency in your project, raises collaboration to a new level, enables you to be closer to the market and thus to your end customers. Moreover, you will optimize the operation of your solution.
Platform
For the technical implementation of the DevOps methods, we map your Cloud project on the Azure DevOps platform. This results in an integrated and iterative overall process in the areas of project management, development, build & testing, deployment, operation and monitoring/optimization.
DevOps Focal Points

IoT (Internet of Things)
Added value through data
Do you want to connect an industrial plant, machinery, buildings, vehicles or devices to the Cloud with simple means in order to generate added value for your business from the data obtained or simply to monitor them? In the age of the Internet of Things and the Cloud, this has become relatively easy.
Connection to the Cloud
We support you in making a technology selection for the connection of the devices via data-providing sensors, conceptualize and develop the communication from the devices (Edge) to the Cloud and provide you with the data, analysis and evaluations via a Cloud solution.
IoT with Azure
We do this on the basis of standardized edge devices or individually developed prototypes. On the Cloud side, the IoT out-of-the-box solution Azure IoT Central is used providing easy device management, dashboards, and analytics. For more complex requirements, all other Azure Cloud services can be used to map any IoT scenario and its business logic.
Data Analysis
The data architecture is designed according to your requirements and within the scope of which it is defined which information should be displayed in real time in dashboards and which data should be archived or persisted for further analytical questions. For individual analysis and reporting, we use PowerBI as a powerful Cloud-based tool.
For each scenario
With the IoT services that the Azure platform offers, we implement your individual IoT requirements, from the Edge to the Cloud, from retrofit scenarios of legacy systems for pure monitoring to completely new solutions for business models based on devices and Software.