Cloud Control for Azure
Cloud Control is a self-service portal for controlling cloud resources. With Cloud Control, you can easily and quickly launch and stop Azure resources, such as virtual machines, for your enterprise users or end customers without having to give access to the complex Azure Portal.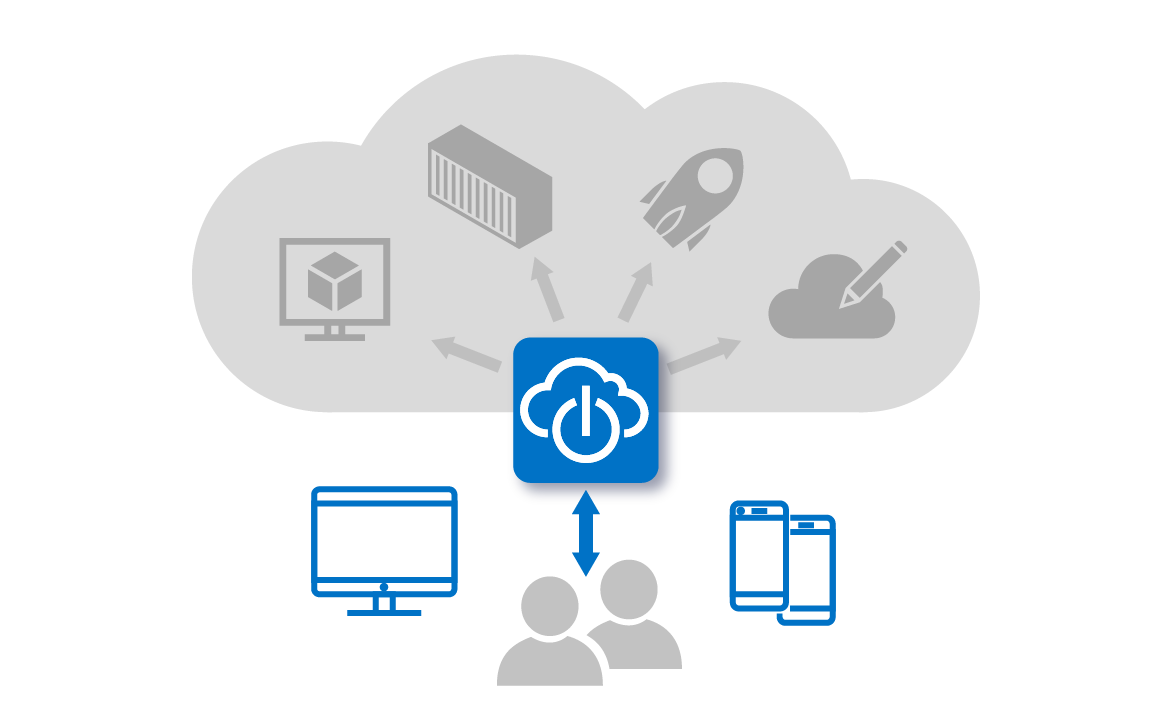 Software producers
Cloud Solution Providers
Companies that use Azure internally
Start and stop Cloud resources
Triggering Cloud software updates
Access for end customers and business users
Customizable self-service portal
Simple for usage
Reduction of Cloud costs
No access to Azure Portal required
Simple administration
Application scenarios for Azure in detail
With Cloud Control, you can map a variety of application scenarios. Cloud Control is designed and developed for both software producers and companies that leverage Microsoft Azure internally.
SOFTWARE PRODUCERS
You are a software producer or Cloud solution provider and want to enable your end customers to access Cloud resources conveniently and easily.
COMPANIES
Your company uses Azure internally and you want to give your professionals a convenient and easy access to Cloud resources.
Functional scope and technical details
Cloud Control offers a multitude of useful features for your end customers or specialist users, which are provided using the latest technologies and can be securely integrated into your Azure environment.
Admin Center
Managing Azure Subscriptions
Managing Azure Resources
Managing Azure DevOps Organizations*
Management of organizations/customers
Managing end-users
Self-service portal
Starting and Stopping Azure VMs
Starting Azure Pipelines*
Running Azure Subscription Boarding*
Running Azure Kubernetes Scaling*
Deployment
Single-Tenant Application
Deployable to your Azure Subscription
Container Hosting in Azure Kubernetes Service (AKS)
Security
Enterprise Grade Security
Connection to your corporate AAD for admin center users
Providing a AAD-B2C to self-service portal users
Azure Resources
Virtual Machines (VMs)
Azure DevOps Pipelines*
Azure Subscription Boarding*
Azure Kubernetes Scaling*
Cloud Control – Early Adoption Program
Sign up for the Cloud Control Early Adoption Program and use Cloud Control for free for the first 12 months.
Pre-release version of the Early Adoption Program – Immediate (registration required)
General availability – planned for Q2-2021