Kubernetes Community Days Munich 2023 – Our Wrap-up
On July 17 and 18, we had the pleasure to gather with like-minded people and cloud native enthusiasts in Munich at smartvillage. Together with Liquid Reply and BLUESHOE, we organized the Kubernetes Community Days Munich 2023. Continue reading our wrap-up for some impressions and technology key takeaways.
Contents
Kubernetes Community Days Munich 2023
Kubernetes Community Days are aimed at cloud native enthusiasts, DevOps experts, IT professionals, platform engineers, and all those who like to learn about the latest technologies in CNCF landscape. Munich successfully hosted its second edition, aiming to foster a sense of community and serve as a valuable platform for professionals and experts across various levels and backgrounds to delve into the realm of cloud-native technologies. As an officially recognized Kubernetes Community Day, the event received strong backing from the CNCF (Cloud Native Computing Foundation).
white duck team proved to love challenges and embarked on a journey of co-organizing such a big and important event. We did not regret it as along the way we learned a lot, met great people, and are happy to have experienced the real community spirit. Moreover, important to say, it was an immense pleasure to work with the Liquid Reply and BLUESHOE teams who are our friends too.
Recap of the conference
On the two days, the visitors had a chance to hear inspiring talks and take part in workshops by leading experts from open source, DevOps and Cloud Native communities. The conference took place at the exceptional 2-floor venue with enough space to network, join talks and workshops. Great food suiting every taste was a bonus! We wrapped up the first conference day with a bowling event and had a blast that evening.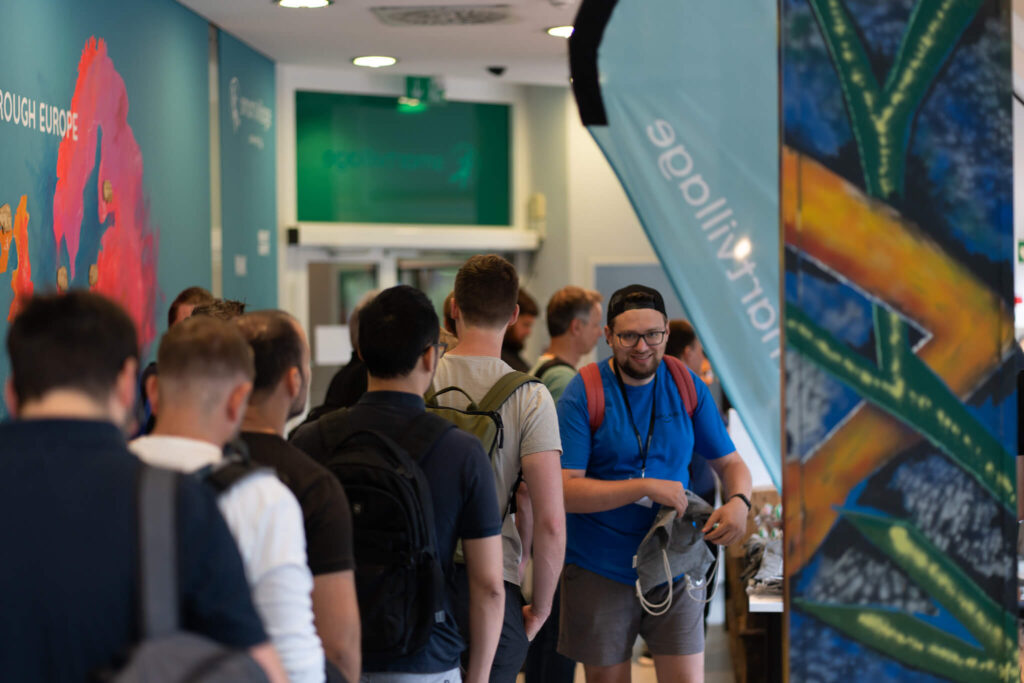 Technology news and insights
This year's KCD Munich edition offered 42 high-quality talks, lightning talks and workshops held by prominent tech experts and CNCF ambassadors. New methodologies, concepts, and tools were introduced and there were many exciting topics such as:
Networking with Cilium, focusing on security and automation from a zero-privilege perspective,
Securing Kubernetes workloads with Kyverno and a hacker's guide to Kubernetes security,
Advanced Progressive Delivery with OpenFeature and flagd in a cloud native environment,
Cloud native anti-patterns that may weaken security, and how to apply good security practices throughout the app lifecycle,
How Kubernetes optimization can combat climate change and the importance of sustainability in IT, including carbon-aware computing and green software development.
So, what's hot in the press? What should you stay up to date on? In our opinion, on the following:
Cilium: Still hot, still full sessions, and still eBPF. Service Mesh, Cluster Mesh, Cilium Mesh, there seems to be nothing Cilium can't handle!
IDP: IDP is not IdP :) Internal developer platforms are on the rise, enabling developer self-service on Kubernetes. The keynote from Andreas Grabner centered around this topic and the next one,
Platform Engineering: DevOps is dead, long live Platform Engineering. One of the most heard questions was: What is Platform Engineering actually? The future of Ops! True? Wrong? Our simple answer: 42.

Achievements and Successes
We are thrilled to state that this year we had over 300 conference attendees, 20 sponsors, 6 community and media partners. Furthermore, positive feedback on social media accounts witnesses that the hard work paid off and we are just over the moon reading your posts of encouragement and praise. The outcome clearly indicates that we have successfully accomplished our goal of delivering valuable content and hosting exceptional speakers, creating a comfortable and welcoming environment for all attendees during these two days.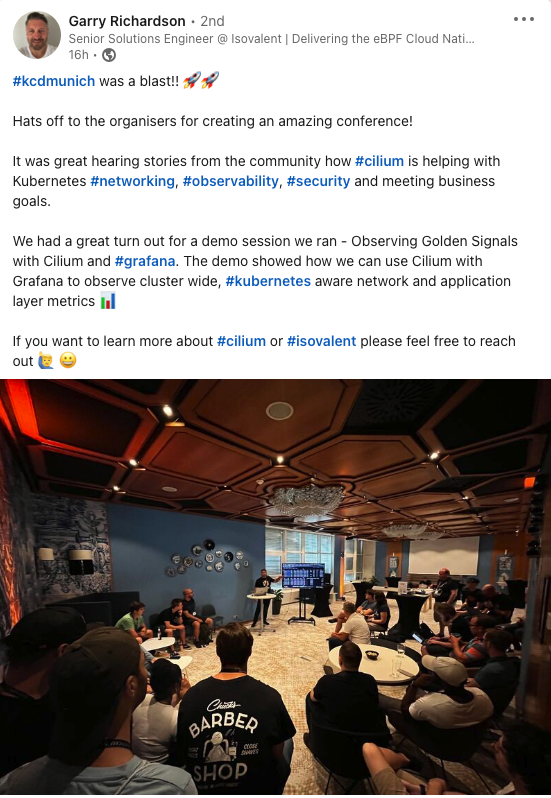 Stay connected with us and find some more feedback and event impressions on our – Twitter, LinkedIn accounts and on KCD Munich social media channels – Twitter, LinkedIn, YouTube.
Conclusion
In the end, we would like to thank everyone involved in making the event a success. We are grateful for all the sponsors, speakers, volunteers, and attendees who made the event possible and hope to see you again, latest next year, at the KCD Munich 2024!
Next up for us are the ContainerDays in Hamburg and GitLab's DevSecOps World Tour in Berlin. Meet us there!
We also would like to encourage everyone to attend the KCD Austria in Vienna on September 26th – 27th. Secure your spot by grabbing early bird tickets available until July 31st. Don't miss this opportunity!